A robust time and labor cost management system.
A simple yet powerful employee time tracking solution with the flexibility to track your entire workforce. Driven with live field data to generate more accurate paychecks, invoices, and true job cost analysis. Real-time data allows your staff to eliminate errors while completing billing and payroll in a fraction of the time.
Simple and Powerful Employee Time Tracking

Ensure your mobile workforce is in the right place, at the right time. When employees punch IN, change TASKS and punch OUT, WorkMax TIME captures GPS location. You can setup WorkMax to compare your custom Geo-fences along with time-stamps to alert you if employees have punched IN, changed TASKS or punched OUT outside of your Geo-Fence.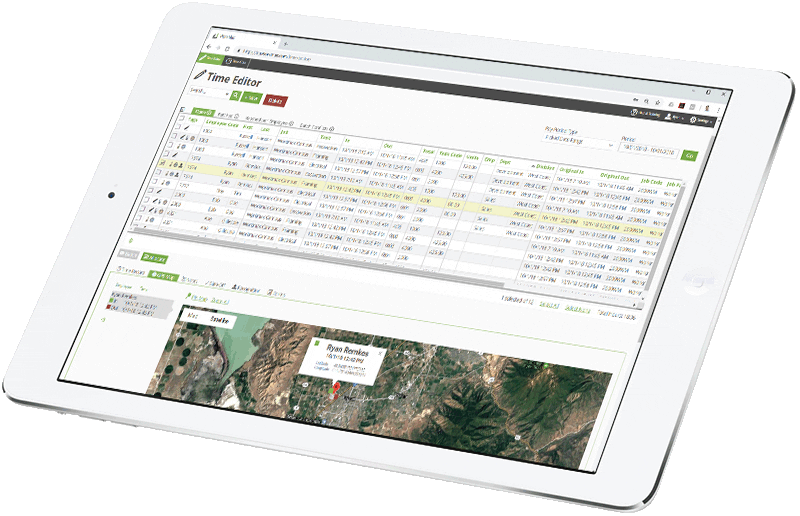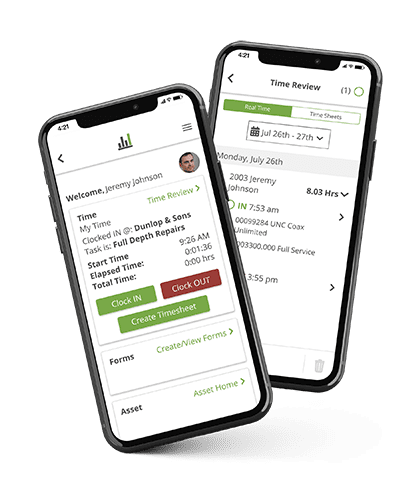 Eliminate "Buddy-Punching" by using our patented facial technology.  As employees clock IN, change TASKS and punch OUT, their face recognition picture will be captured along with their time-stamp. WorkMax then auto-scans photos with our intelligent face-matching technology to find and flag any suspect time records.  WorkMax TIME Face Recognition can also be turned on or off for each employee.
WorkMax lets you setup the system your way, ensuring company-wide adoption and a quick return on investment. Employees are quick to learn and adopt WorkMax because you can personalize the system for your industry, your business, and your entire team.
WorkMax permission profiles lets you route the pertinent data to the proper employees, resulting in less mistakes and more accurate TIME and field data as employees are presented only what is applicable to that employee, their job(s) or their workflow.
Unlike many other Time systems out there, WorkMax supports real-time and "after the fact" TIME tracking workflows so employees can punch IN, change TASKS and punch OUT or supervisors can clock an entire group on or off in seconds. Regardless of which workflow you choose, all of your employees can review, approve and sign off on their time worked.
Faster payroll and billing with time collection and labor automation
Faster payroll and billing with time collection and labor automation
Faster payroll and billing with time collection and labor automation
Punch IN, change TASKS, and punch OUT in real-time as it happens. Supervisors don't need to do anything.
Punch IN to start shift and OUT at the end of the day. Employees do not need to change tasks throughout the day.
A digital timesheet, allowing employees to enter time worked after the fact, generally at the end of the day
Individual or team leaders clock IN/OUT
Individual or team leaders clock IN/OUT
Record time digitally after the work is done.
Individual can change job task in seconds
Supervisor allocate employees into different tasks as they occur
Supervisors can allocate tasks after the time has been entered
GPS Location is used for each captured step in real-time as it happens
GPS time stamps and tasks
Some investments take years to see a return, but with WorkMax TIME, FORMS and ASSETS, we saved over $1,000,000 within 12 Months.
Galindo & Boyd // Rebecca Gates, Human Resources/Payroll
With WorkMax FORMS, we had all the info we needed right away to negotiate better pricing and eliminated excess material purchases. This reduced our material costs by $145,000."
Redden Concrete // Brooke Redden, Vice President
We cut our field labor cost by $141,440 with WorkMax TIME's real-time tracking and facial recognition. WorkMax TIME not only reduce our labor costs significantly; it helped us create more accurate bids and reduce our payroll processing time by 75%
Archer Mechanical // Amber Madrigal, Manager of Operational Excellence
WorkMax TIME is able to connect to today's most popular accounting software to increase efficiency by eliminating manual data entry and automating your payroll process.
Any Device, Anytime, from Anywhere
WorkMax TIME allows your team to easily track time and manage labor from any device, anytime, from anywhere.
Sync with Payroll Software
Live Clock In/Out Visibility
Employee Privileges and Rights